PHOTO REPORT:
MINUTEMEN IN ARIZONA Part 4
I took this series of photographs on April 24 and 25, 2005,
while Brad Beebe and I worked the Minuteman Project line
near Naco, Arizona, on the Mexican border.
To keep the size of the file manageable there are only a few
images per page. Use the scroll buttons to see them all.
Back to the first photos
Previous set of photos
Read the eyewitness report
---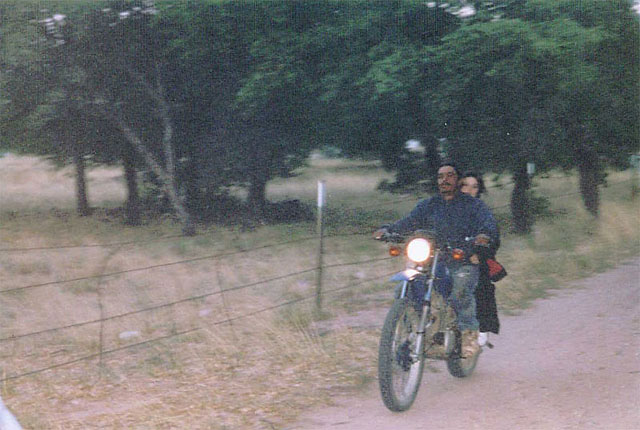 An Hispanic-looking male, with a woman riding backup on a dirt bike, zipped north on the unpaved road behind the Minuteman lines at Highway 92, during our watch. We got advanced word of his arrival on the walkie talkies everyone carried, and in keeping with the prime directive -- a 100% no-contact policy -- we simply observed them, and took notes and photographs. They returned southbound a few minutes later and were not seen again. The bike had no license plate.
I've been asked several times, somewhat cynically, what does an "Hispanic-looking male" look like? This is a police-type description,
as in, "Hispanic-looking male, mustache, mid twenties, approximately 160 pounds, wearing blue jeans, dark blue long-sleeve shirt."
I couldn't adequately describe the backup rider beyond identifying her as a female, so no further details are provided about her.
This picture is scheduled to appear in the September, 2005 issue of Soldier of Fortune magazine, along with many other photos
from this collection.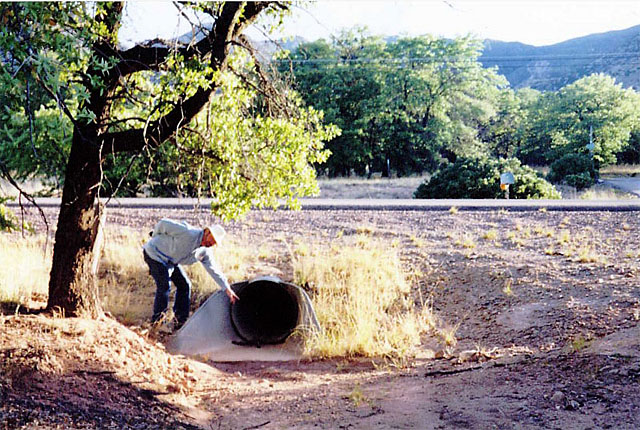 Brad is pointing to a small culvert for draining storm runoff under Highway 92. Illegals have been known to use these to cross highways, especially if the larger walk-through concrete culverts are being watched. We smoothed the sand at its mouth and carefully arranged some twigs -- borrowing the Border Patrol trick -- to detect anyone who might have slipped through. No one did during our watch, the swing shift, from 2 p.m. to 10 p.m.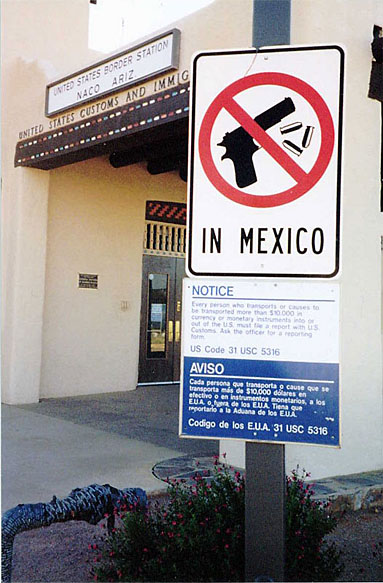 The most respectable looking building in run-down Naco is the U.S. Border office there. The no-guns-or-ammo sign has no text with it, presuming perhaps that gun owners cannot read. Bringing even a single round into Mexico gets you into one of their helatious prisons for two years. Mexican officials are rumored to be in great fear of revolution from their oppressed masses, hence the virtual ban on private arms, or bring weapons into the country. This rumor is supported by the fact that 5,000 Mexicans a day attempt to escape across the U.S. border, a worse exodus than even the communists faced. Drug cartels, armed to the teeth but fixated on profits, are apparently not an issue, and are left alone by officials, since attention to this matter has a tendency to lead to rapid assasinations. The warning sign forbids bringing more than ten grand in cash across the border, without filing forms with the authorities.
Back to the first photos
Previous set of photos
Read the eyewitness report