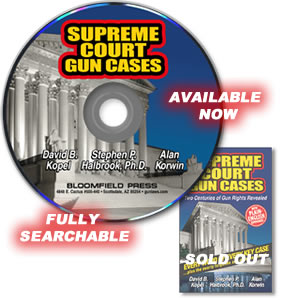 SUPREME COURT GUN CASES

Attorney David B. Kopel
Attorney Stephen P. Halbrook, Ph.D.
Alan Korwin

$17
PDF on CD by mail
$10
PDF by email
Electronic versions are fully searchable.
$24.95 Paperback (currently soldout*)

The most important set of words ever written
about the constitutional guarantee to arms.

44 cases included unedited, 92 cases in all!
(We were stunned that there were so many!)
Everything is described in plain-English


*Check out our Supreme Court sequel -- The Heller Case: Gun Rights Affirmed!
Includes summaries of all 96 Supreme Court gun cases!
(Replaces Supreme Court Gun Cases paperback which is currently sold out)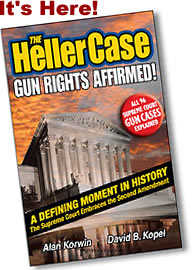 With detailed descriptions of all 96 gun cases!
Click the book cover for details.
______________________

SUPREME COURT GUN CASES - The Book
100% of the now out-of-print book's content are found
in the disc version of this item.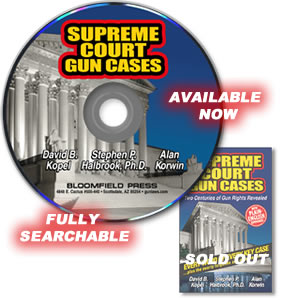 More than 1,000 highlighted quotations!

Plain English descriptions for every case!
Essays on the significance of the High Court's decisions.

$24.95 Paperback (currently soldout)
$17
PDF on CD by mail
$10
PDF by email
Electronic versions are fully searchable.
Get all 96 Supreme Court gun cases in The Heller Case book
The decisions of the Supreme Court are beautifully thought out works of logic and reason (usually). In exquisite detail, the highest court of the land has interpreted our rights under the Second Amendment—and while some people have taken lately to belittling those freedoms, the High Court has recognized an individual right to arms in America for more than two centuries. The "news" media has it wrong, read the cases and see.
Here's the bottom line: the Supreme Court has recognized an individual right to keep and bear arms, consistently, for 200 years. The Court has upheld the legal tradition and historical record of private individual gun ownership, self defense, and armed self defense, since the country began.
They have not been quiet on the subject, and they have not disparaged individual rights—the days of saying that are now over. The High Court could change its mind of course, but only by rejecting a record built up for hundreds of years. Don't take anyone's word for it any longer—see for yourself what the Supreme Court has said.

A superior reference, very quotable, an affordable one-volume debate winner.

If you think your gun rights are important, this book is for you.
If you represent clients on gun issues, get this unique resource.
Reporters can use this book to accurately reflect the current record.
This massive project, six years in the making,
was released in September 2003.
Get yours today!

672 pages
$24.95 Paperback (currently soldout)
$17
PDF on CD by mail
$10
PDF by email
Electronic versions are fully searchable.

Partial Contents:

"About the Supreme Court's Gun Cases" by Alan Korwin

"The Supreme Court's 35 Other Gun Cases" by David B. Kopel

"Insider's Guide to Winning Gun Cases in Federal Court" by Stephen P. Halbrook

"Gun Guarantees in Individual State Constitutions" by Prof. Eugene Volokh

Complete text of the 44 main gun cases

Relevant excerpts from 48 additional gun cases

Descriptive Index of all 92 Cases (see sample below)

Plain-English summaries of all 92 cases


Supreme Court Gun Cases is a good read thanks to the plain-English gists with each case—you've got mutinies, lovers climbing through bedroom windows, Wild West shootouts, mob ambushes, drunken brawls, cattle rustlers, drug busts, family feuds, international criminals—if you threw this much into a novel your agent would say you were nuts. But this is all real!

Typical entry from the Descriptive Index
Alberty v. United States • 1896 • 162 U.S. 499 • p.231
If a husband sees another man trying to get into his wife's room window at night is it natural for him to investigate further [YES]; Is the husband under a duty to retreat when attacked with a knife under such circumstances [NO]; May the husband use only as much force as is necessary to repel the assault [YES]; If in an ensuing confrontation the husband shoots and kills the other man, then flees, must his flight in and of itself be seen as evidence of his guilt [NO].
Read more about Supreme Court Gun Cases.

"…wonderful… groundbreaking… belongs on the bookshelf
of every practitioner of constitutional law… Gun rights are an
integral part of each American's fundamental constitutional liberties."
Thomas C. Patterson, M.D., Chairman, Goldwater Institute

"…a political earthquake… an exceptional piece of research…
the anti-freedom crowd is not going to like Supreme Court Gun Cases."
Larry Pratt, Executive Director, Gun Owners of America

"…dynamite… Sometimes people need to defend themselves while
we're responding to a 911 call. Law enforcement officers know that
firearms in the hands of decent people are a deterrent to crime…
It's good to know the Supreme Court has been this positive about
gun rights and self defense… pulls the rug out from under politicians
who want you to believe you have no right to defend yourself or own a gun."
Joe Arpaio, "America's Toughest Sheriff"

"Academics and judges will be surprised (no actually shocked)...
The number of precedents is truly overwhelming."
John R. Lott, Jr., Ph.D., American Enterprise Institute

"…a stunning accomplishment…
will change the political landscape on the gun-rights debate."
Evan Nappen, Attorney and Author

"The dream team of American gun-law experts has driven a stake through
the heart of the anti-rights gun-ban lobby… gun haters will need to
manufacture new lies… The individual right to keep and bear arms is
an American tradition with roots as deep as the nation itself."
Alan Gottlieb, Chairman, Second Amendment Foundation

"While the Supremes have directly acknowledged the Second Amendment
as an individual right, this new book unearths 92 gun-related cases where
the High Court upheld, among other things, armed self-defense of person,
family and community—the heart of the Second Amendment.
The synopsis of the Miller case is the best I have ever read."
Neal Knox, Gun-Rights Activist, The Firearms Coalition

"…strikes a powerful blow for freedom…
My hope and prayer is that your book will supply the brain-cell ammunition
necessary to continue our battle against those who would deny Americans
such a basic human right."
Suzanna Gratia Hupp, Texas State Representative
Survivor of Luby's Massacre and Mother

"This book proves what NRA has been saying all along—
the Second Amendment protects an individual's right
to keep and bear arms—a freedom existing before America's
founding and enshrined in our Bill of Rights."
Wayne R. LaPierre
National Rifle Association Executive Vice President

"...should convince anyone that the right to own firearms
is at least as strong as the right to free speech. Bravo on an
important scholastic work that is easy to read and understand."
Tom Gresham, Nationally Syndicated Radio Talk Show Host


Supreme Court Gun Cases
Bloomfield Press (Phoenix) • ISBN: 1-889632-05-8
672 pages
$24.95 Paperback (currently soldout)
$17
PDF on CD by mail
$10
PDF by email
Electronic versions are fully searchable.
News Media Fact Sheet
General findings

NEWEST CASE DIRECTORY (newest material first)
McDonald v. Chicago, The 2010 Sup. Ct. case that tests "incorporation" --
are individual states obligated to obey the Second Amendment, under
the principles in the 14th Amendment "Due Process" or especially
its "Privileges or Immunities" clause. The Court says "YES," all states
are obligated to obey the Second Amendment, under Due Process
protection (not under P or I). Chicago's total ban on handguns must fall,
and broad principles of liberty should flourish. Chicago subsequently does
everything it can to subvert and avoid the consequence of this decision,
to keep its residents unarmed, and spurs new lawsuits and wrangling.
A truly crucial, landmark case.
Oral argument: March 2, 2010.
Decision issued June 2010.

All official McDonald v. Chicago documents: http://www.chicagoguncase.com

BLOOMFIELD PRESS McDonald v. Chicago amicus curiae brief
EYEWITNESS REPORTS from the Supreme Court
Analysis of the oral arguments - fascinating if you enjoy this sort of thing
Supreme Court Gun Cases backgrounder for news media and the public
Descriptive summaries of every gun case (a tremendous resource)

Gun cases 93 to 96 described (Brosseau, Small, Castle Rock, Heller)
(These came out after Supreme Court Gun Cases was published,
and are available in The Heller Case: Gun Rights Affirmed!)

The actual D.C. v. Heller Decision, unabridged (pdf file)

Korwin's D.C. v. Heller Eyewitness Report - PreGame (3/17/08)
Korwin's D.C. v. Heller Eyewitness Report - PostGame (3/18/08)
Korwin's D.C. v. Heller Eyewitness Report - Analysis1 (3/20/08)
Korwin's D.C. v. Heller Eyewitness Report - Wrapup (3/26/08)

Korwin's D.C. v. Heller Eyewitness Report - The Decision Analyzed
(Posted June 26, 2008, the day the decision was released)
Heller Case Photos: 1-PreGame • 2-HearingDay • 3-PostGame • 4-NewsCoverage
D.C. Issues Its New Rules for Gun Owners (pdf files):
New Regs for D.C. Gun Owners, post-Heller
D.C. Police Publicity Flier for Gun Owners (plain English), post-Heller
D.C.'s New Gun Law Word-for-Word, post-Heller
Links to all filings in The Heller case:
D.C. v. Heller Links to all 67 amicus briefs (20 anti-rights, 47 pro-rights) and more (2008)
D.C. v. Heller Links to all official documents from Heller's attorney Alan Gura (2008)
D.C. v. Heller Oral Argument Transcript (3/18/08)
Gura/Levy/Neily website (Heller's attorneys) with links and backgrounders
There are now 107 gun-related USSC cases
Standard for inclusion: If guns are mentioned in any fashion, or if the Second Amendment is mentioned or quoted in whole or in part in a published opinion, the case is included in the tally. Posting date: Nov. 16, 2010.
Allen v. U.S., 1896
Allen v. U.S., (these two Allen cases pre-date Allen, 64 U.S. 492) 1896
Hickory v. U.S., 151 US 303, (murder) 1894
NY v. Quarles, 467 U.S. 649, (Creates an "emergency" exception to Miranda) 1984
U.S. v. Morrison, 529 U.S. 598, (drugs for guns) 2000
The cases above were omitted from the original tally of 92 gun-related cases in SCGC; they were uncovered after the original book's release. The cases below were decided after the book's 2003 release date. The first three are included in the subsequent book The Heller Case: Gun Rights Affirmed from Bloomfield Press.
Brosseau v. Haugen, 543 U.S. 194, (Justifiable police use of force) 2004
Small v. U.S., 544 U.S. 385, (No loss of rights from Japanese court conviction) 2005
Castle Rock v. Gonzalez, 545 U.S. 748, (Police have no duty to protect person) 2005
Watson v. U.S., 552 U.S. 74 (drugs for guns) 2007
D.C. v. Heller, 554 U.S. ___, 07-290, (Individual right protected under 2A) 2008
U.S. v. Hayes, 07-608, (Domestic Violence). 2009
AZ v. Johnson, 07-1122, (concerning frisk) 2009
McDonald v. Chicago, 561 U.S. ___, 08-1521, (2A applies to states via Due Process) 2010
Berghuis v. Thompkins, 08-1470, (Miranda must be verbalized and explicit) 2010
Abbott v. U.S., 09-479, (Minimum §924c sentence for gun with drug crime) 2010
92 cases in Supreme Court Gun Cases, plus these 15, equals 107 total cases.